After depositing my belongings in the hotel we make the few minutes walk down to Student Street. This is what they call the section of Xeufu S Road that runs between the 2 entrances of Fuzhou Technical University, Western Campus.
The first few minutes are quite overwhelming. I suppose the first word that comes to mind to is ramshackle but I hesitate to use it as it may seem perjorative, it's not meant in that way. In England we are used to organisation: time and money being spent on keeping our environment tidy, often regimented and neat. There are run down urban areas, neglected and in poor repair but this is not what I mean about Student Street. Everywhere there are people making do, using their ingenuity to occupy what space they can and earn a living and make a life. The university with its 23,000 students is a good source of income so although this area is way outside the main part of Fuzhou, out in the wilds in fact, it's a magnet for people wanting to make a living.
Each shop or eating space tries to offer that little something extra. Fans on the pavements with cables drifting across the floor, offer welcome relief from the unremitting heat. It's hard to separate the noises, quick fire Chinese speech, horns blowing, the odd sounds made by lorries passing (more on this another time), motorbikes buzzing around and cars; many of the eating places and shops have music blaring out onto the street. It's not long before I start to sweat in the heat.
Not having electricity or a proper space to set up a stall is no barrier to the sellers.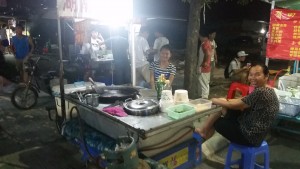 Hot food stalls are all around, squeezed into any available space. The smell of cooking food is everywhere and delicious. As I walk along people look up curiously, a 6 foot slightly overweight man in a Panama hat with a bushy white beard is a novel sight for them. I meet their eyes and smile, they bob their heads and offer wide grins in reply, many wave and shout a greeting. Small children stare up at me wide-eyed and fascinated. It's only in the days that come, that I realise they are familiar with Santa Claus (of course I shouldn't have been surprised). We climb the steps to look over a small mall which is mostly populated by eating places. On the ground floor Mark and I buy a pancake wrap with egg and sausage in it, it's delicious.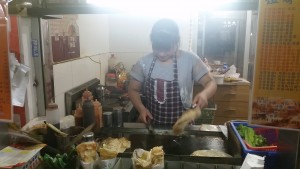 Mark suggests that we visit Bar 7 where I will meet one of the students who works behind the bar. Yanhong is full of smiles and insists on us having a beer on the house.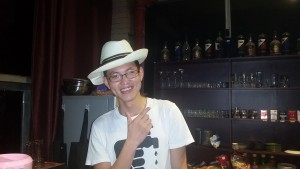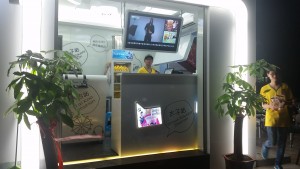 It is late and we decide to finish up. Mark goes up the steps and over the bridge to the University. I turn round and start to make my way back to the hotel. On the corner is a juice kiosk. I look in, startlingly it is superbly organised with state of the art equipment a complete contrast to the other stalls around. I go for lemon juice and honey. The end result is a half litre plastic cup which is marvellously sealed with plastic so nothing can spill until you pierce it with a straw.
I am suddenly alone in China. Not the smart tech China of the 21st century but one which surrounds me with sights and sounds which are inexplicable, albeit exotic and fascinating. I guess I can be forgiven for wondering in that moment whether I've made a mistake but it doesn't take long to shrug the thought off. I slowly amble back to the hotel, surrounded by smiles and evident good will. No sense of fear pervades me and I'm suddenly excited and so so pleased I had the courage to do this.