Yesterday was another day of firsts. It was my first experience of Fuzhou rain, thunder and lightning. I was assured that all 3 were fairly modest affairs for the area but they quite amazed me. I also made the acquaintance of Báijiǔ. Another first was me playing Yanghong's guitar and performing John Barleycorn (do you reckon I'm safe laying claim to it being the first ever performance of the song in Fujian?). And then marvel upon marvel I realised a boyhood dream!
But let's go back a few hours first. You know those scenes where the actors are supposed to be braving torrential rain, the scenes where the density and relentlessness of the rain tells you that there is a crew of people playing hoses everywhere, off screen. Well I'm blowed if I could see the hose pipes but all that water couldn't have possible come from the sky. Within minutes the roads were inches deep in water and the temperature plummeted and every now and then someone set off a thermonuclear device in the air above me. The forecast is that the rain is set in for 4 to 5 days and the temperature will be a modest 28°. Very wet on the feet and slippery.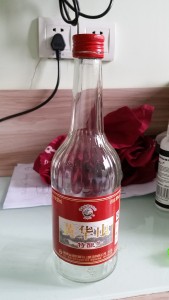 Báijiǔ is a clear Chinese spirit, a ½ litre bottle cost us £0.60. The aroma reminded me a bit of a combination of pears and Nitromors. It went down well with a slug of Coke however. In the evening we finally made it to a bazaar type area on Guangxian Road Mark had been telling me about since I had arrived.
You can see pictures at the bottom of this paragraph. It was fascinating and we went into a Korean restaurant for a meal. The meal was good but not the best I've had in China. What was interesting though was the way the food was served. Each table had a singe ceramic induction hob in the centre of it. We chose our dish and then a large pan of food (already cooked) was brought to the table with extras for us to add like lettuce, bacon and cucumber and then we did the final cooking at the table. The pan kept nice and hot throughtout the meal thanks to the hob. The bazaar was just how you would imagine such an area to be in China, bustling; shops of all sorts ranging from tumble-down stalls to really posh shops. None of them were large and the paths between them were narrow. This however didn't deter those feisty Chinese scooter drivers who's shouting and horn blowing allowed them to jemmy their way through. Everywhere we were given smiles, nods and "nĭ hăo"s. There were quite a few children around and they were fascinated seeing these westerners.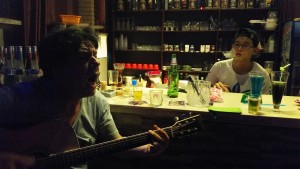 We returned to Student Street and went to Bar 7. Yanghong was as welcoming as ever. As the evening wore on, we started playing the guitar. Mark and Yanghong both played, it was great to hear Mark's punchy rendition of House Of The Rising Sun and Yanghong did a Chinese version of Let It Be, he has a great voice. Then I was persuaded to perform John Barleycorn. Modesty prevents me from saying more ; other than that in regards to my playing and singing I had a lot to be modest about! Yanghong then suggested I might like to have a couple of games of pool. I suspect he was playing the odds and felt that anyone who could play the guitar as badly as me was likely to be a pretty poor pool player. He judged it just right and I lost 2 games to him. AND IT WAS THEN IT HAPPENED. I looked across the room and there in the corner were a group of young Chinese men playing Mahjong.
Now when I was 8 years old I had been given a Mahjong set and I sent away for an instruction book. I tried so hard to learn but my problem was that you need 4 to play and I was never able to find 3 other people who were willing to invest the time to learn with me. That aside I used to regularly get the tiles out and gaze at them with fascination, they looked so exotic and had names that just wove magic in a young boy's heart: the Bamboos, the North, South, East and West Winds, the Red, Green and White Dragons, the Flowers and the Seasons to name some. Then there was the start: the shuffling of the tiles was called, so my book said, the twittering of the sparrows (Mahjong means sparrow I was told last night) because of the noise they make as they strike each other. And then you stack them 2 high round the table to make the Great Wall of China.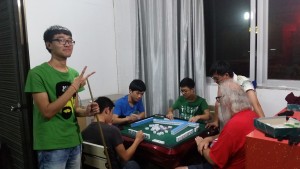 I had to go over and see and these charming smiling joyful students immediately started to tell me about it. In a flash one had beckoned to me to take his seat and his hand, such generous people. And there I was playing Mahjong in China a 42 year old dream come true, that moment amongst the sparrows counts as my best moment in China. It will be hard to beat.