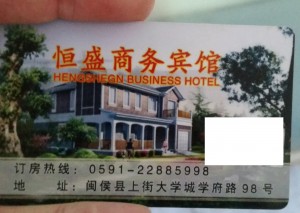 I can't praise my hotel enough it is just perfect. It's the Hengshegn Business Hotel and it is on Xeufu S Road and less than 10 minutes walk from the University Campus. It's well-appointed; the en-suite is a wet room. I have however discovered one disadvantage of a wet room. Yesterday when showering I dropped my toothbrush in the toilet!
At around £13 per night it's incredibly good value. The air-conditioning is first class (a real boon in this heat). The bed is comfortable. With slippers, comb, toothbrush, toothpaste, shampoo and towels, kettle, teabags, TV, internet using either WiFi or LAN provided I would recommend it without hesitation. The picture on the key card above is perhaps a bit deceiving:-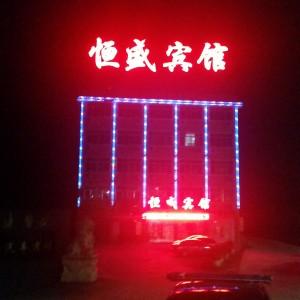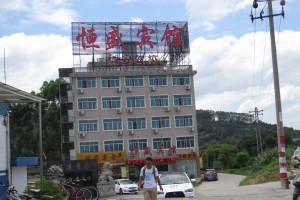 … but we are all allowed a little poetic licence! The view out of my window:-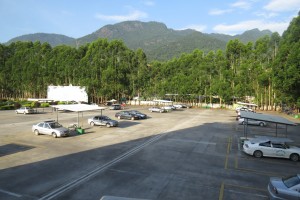 The hills in the background are very beautiful and to the right there's a river you can't see from my room (can't find its name) that is a fairly substantial tributary of the Minjian Nangang that runs through Fuzhou. The foreground seems like a car park but I think it is more than this, although I have yet to find out what. At the back of the "car park" in the trees there is rubble and some building works. This morning I saw horses being laden and used to move materials there. When I arrived here it was dark and I was puzzled as it seemed that a number of the cars were carrying sheets or plywood or similar. In the morning this became clear as I realised that some of the cars have sun shades:-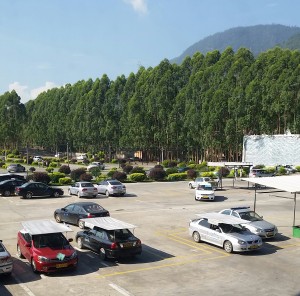 So the next day I resolved the puzzle of the "car park". I noticed that it is an enormous space that stretches away from the hotel down the road. I also saw cars creeping round and round very slowly manoeuvring then it hit me it's a driving school. It's very hard to reconcile these carefully and precisely driven vehicles with the chaos on the roads. I know, I know you can say the same in the UK but the disparity here is awesome by comparison. Having said that, to date I haven't seen a single accident or even a near miss. Maybe the Chinese are better drivers so can cope with less organisation on their roads. Who knows!